Cell
Types Of Cells, Prokaryotes And Eukaryotes, Cell Size And Numbers, The Structure And Function Of CellsThe structure of eukaryotes, Plant organelles, Vacuoles, Cell wall
---
---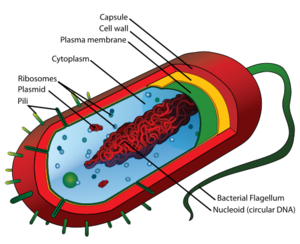 The cell is the smallest living component of organisms and is the basic unit of life. In multicellular living things, a collection of cells that work together to perform similar functions is called a tissue; various tissues that perform coordinated functions form organs; and organs that work together to perform general processes form body systems. The human digestive system, for example, is composed of various organs including the stomach, pancreas, and the intestines. The tissue that lines the intestine is called epithelial tissue. Epithelial tissue, in turn, is composed of special cells called epithelial cells. In the small intestine, these epithelial cells are specialized for their absorptive function: each epithelial cell is covered with thousands of small projections called microvilli. The numerous microvilli greatly increase the surface area of the small intestine through which nutrients can be absorbed into the bloodstream.
---
---
The organelles found in eukaryotes include the membrane system consisting of plasma membrane, endoplasmic reticulum, Golgi body, and vesicles; the nucleus; cytoskeleton; and mitochondria. In addition, plant cells have special organelles not found in animals cells. These organelles are the chloroplasts, cell wall, and vacuoles.
Plant cells have several organelles not found in animal cells. These are plastids, vacuoles, and a cell wall.
Plant vacuoles are large vesicles bound by a single membrane. In many plant cells, they occupy about 90% of the cellular space. They perform a variety of functions in the cell, including storage of organic compounds, waste products, pigments, and poisonous compounds, as well as digestive functions.
All plant cells have a cell wall that overlies the plasma membrane. The cell wall of plants consists of a tough carbohydrate substance called cellulose laid down in a matrix or network of other carbohydrates. The cell wall provides an additional layer of protection between the contents of the cell and the outside environment. The crunchiness of an apple, for instance, is attributed to the presence of these cell walls.
Resources
Books
Barritt, Greg J. Communication within Animal Cells. Oxford: Oxford University Press, 1992.
Bittar, F. Edward, ed. Chemistry of the Living Cell. Greenwich, CT: JAI Press, 1992.
Bray, Dennis. Cell Movements. New York: Garland Press, 1992.
Carroll, Mark. Organelles. New York: Guilford Press, 1989. The Cell Surface. Plainview, NY: Cold Spring Harbor Laboratory Press, 1992.
Periodicals
Maddox, John. "Why Microtubules Grow and Shrink." Nature 362 (March 18, 1993): 201.
Pante, Nelly, and Ueli Aebi. "The Nuclear Pore Complex." The Journal of Cell Biology 122 (September 1993): 5-6.
Scott, J. D. and T. Pawson. "Cell Communication: The Inside Story." Scientific American 282 (June 2000): 54-61.
Shay, Jerry W., and Woodring E. Wright. "Hayflick, His Limit, and Cellular Aging." Nature Reviews/Molecular Cell Biology (October 1, 2000): 72-76.
Additional topics