---
---
MP3 players are not just about digital data any more. Many MP3 players come equipped with added features, including FM radio tuners, built-in microphones for recording, and adapters that allow your MP3 music to play on your car stereo.
Additionally, other types of electronic devices are building MP3 capabilities into their units. Besides the iPhone, many other cell phones now have built-in MP3 players. Your cell phone provider might allow you to download music over its network. How many songs you can download depends on your phone, but many allow use of an external memory card, giving you more options.
---
---
What if you want all the features of the iPhone, without the phone? Check out the iPod Touch, where you still enjoy all the benefits of built-in Wi-Fi (wireless technology). With your iPod Touch, you can surf the Internet and access iTunes for all of your favorite songs, videos, TV shows, and podcasts.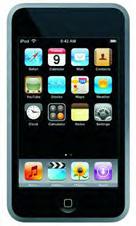 The Sansa Shaker is a fun unit for kids. It is equipped with a speaker so you can share your music with a group of people, but it also has two headphone jacks so you and a friend can listen without disturbing anyone else in the room. The Shaker plays songs like any other MP3 player, but when you want to change songs, you can just shake the device. It automatically switches to a new selection.
Other MP3 players offer lots of features at a nice price. The Sansa Clip player comes with a built-in microphone. It also plays FM radio stations and audiobooks, and includes a screen so you can see your files as you browse. The Sansa View adds movies, TV shows, and videos, along with the ability to enjoy your own collection of photographs.
Microsoft's Zune includes Wi-Fi, an FM tuner, and a screen where you can watch videos and browse through your photos. The Wi-Fi allows you to share favorite songs with other Zune owners.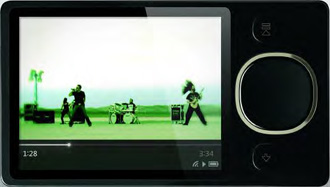 How would you like a Swiss Army Knife that plays music? It really exists! It's called the s.beat, and it comes with 1, 2, or 4 gigabytes of memory and a rechargeable battery that lasts for eight hours. The s.beat comes with voice recording capabilities and has a built-in FM radio. You can even record FM radio onto your player. Want to share a favorite song with a friend? You can, with the s.beat's two earphone jacks.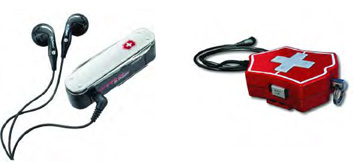 Outdoor adventurers rely on GPS (Global Positioning System) units to help them find their way in unfamiliar areas. A basic GPS receiver can tell them where they are and how to get to their destination. But some units make it even more fun by including extra features. The Magellan Triton 2000, for example, includes a camera, a compass, a flashlight, a voice recorder, and an MP3 player. It's even waterproof, in case hikers get caught in a sudden downpour.
Runners might enjoy Timex's watch, the Ironman iControl. They can plug a small receiver into their iPod, and the iControl on their wrist becomes a remote control. Wearers can skip or repeat songs, adjust the volume, and pause the music when necessary. The Ironman is still a sport watch, though, so it continues to include features runners rely on, such as computing average and best times for the run.
You can wear the Sony S2 Sports Walkman strapped to your arm. Separate your playlist into fast songs for running and slower songs for walking. The player will automatically switch from one playlist to the other when you stop walking and start to run. The sports function tracks how many steps you've taken and how many calories you burned during your run.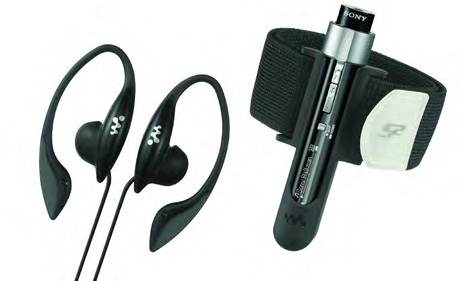 Additional topics